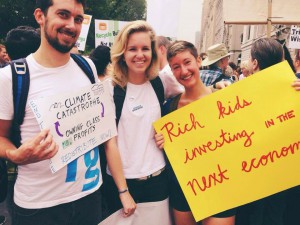 Economic justice is climate justice. These are some reflections as I read Naomi Klein's newest book "This Changes Everything" about extreme capitalism and the climate crisis.
If we meet RG's mission of redistribution of land, wealth and power, we will also necessarily have contributed to stopping the climate crisis.
If we stop the climate crisis, really and truly, we will also necessarily have to meet RG's mission. If land is distributed equitably and cared for by those inhabiting it, if power is held by those who are directly impacted by the decisions made about the resources in their area, if everyone has enough wealth to survive and thrive in dignity…the climate crisis will have been stopped, a new paradigm will have taken shape.
A new dominant economic paradigm* is our only option besides, well, literally ending life as we know it.  An economy that actually centers all life (people and planet) instead of just profits. Here's why.
The planet is in crisis because of the global systems of trade, development, and resource-accumulation in the hands of a few individuals, corporations, and countries.